NEW ALBUM RELEASE OCTOBER 2021
VICE VERSA - BRAM DE LOOZE
feat. Eric McPherson & Felix Henkelhausen
CC de Ververij Ronse - oct 15
Bozar Brussels - oct 17
de Bijloke Ghent - oct 20
KAAP Vrijstaat O Oostende - oct 21
Sendesaal Bremen - oct 22
ALBUM RELEASE FEB 21 2020
'COLOUR TALK' BY BRAM DE LOOZE
Exclusive Premiere/Preview 'Tu Vois' here
Bram De Looze Solo Live in 2020:
Klara in deSingel - feb 1
Flagey Piano Days Brussels - feb 8
Handelsbeurs Ghent - feb 22
Utopia Aalst - feb 28
Lantarenvenster Rotterdam - march 20
Sendesaal Bremen - march 21
Bimhuis Amsterdam - march 27 (double bill Reinier Baas solo)
Piano Days CC Hasselt - march 28
Leuven Jazz Fest - march 29
Transition Fest Utrecht - april 4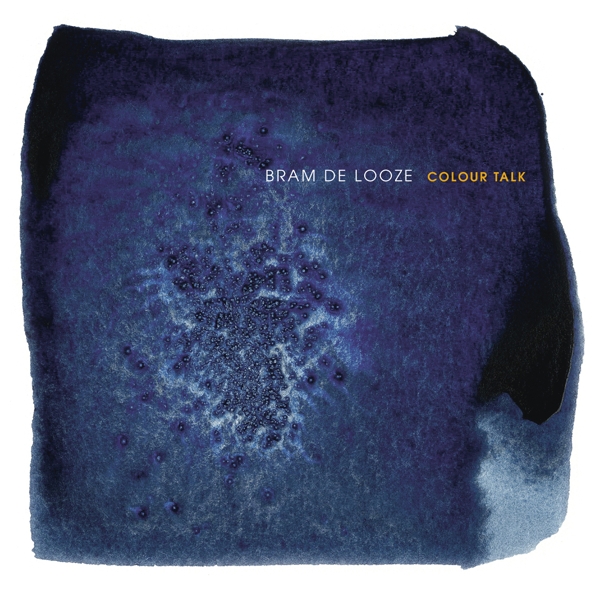 ***


'SWITCH THE STREAM' BY BRAM DE LOOZE
For sale / More Info on Outnote Records (Outhere Music)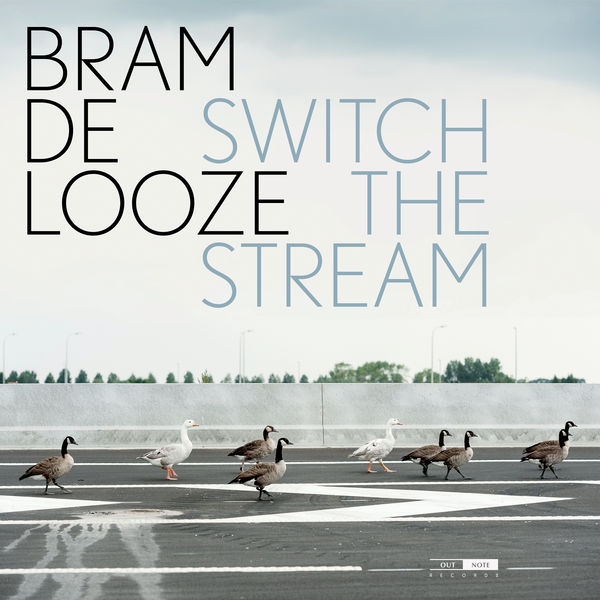 ***


'PIANO E FORTE' BY BRAM DE LOOZE
For sale / More Info on Fuga Libera (Outhere Music)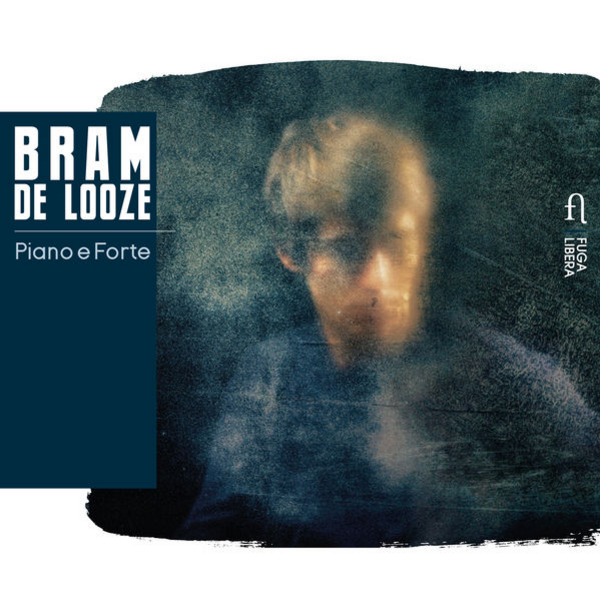 VIDEO PIANO E FORTE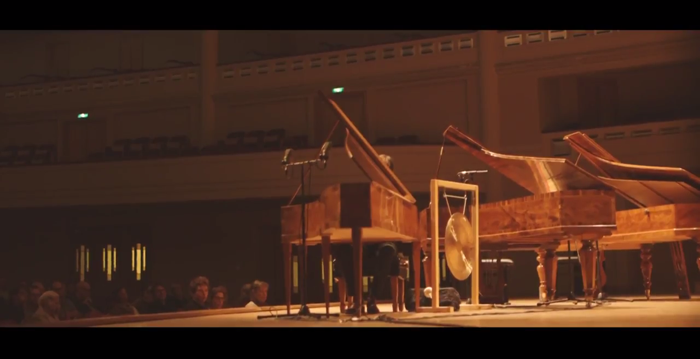 ***
'MiXMONK' BY JOEY BARON, BRAM DE LOOZE & ROBIN VERHEYEN
(Universal)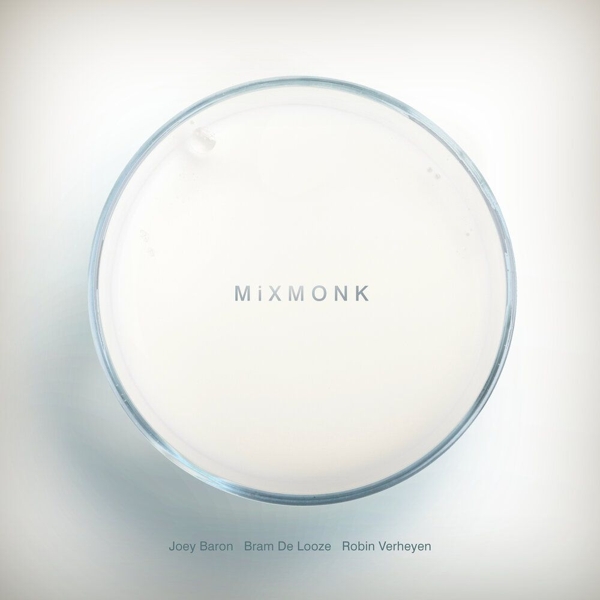 ***
SEPTYCH BY BRAM DE LOOZE
Order Here at Clean Feed Records Online Shop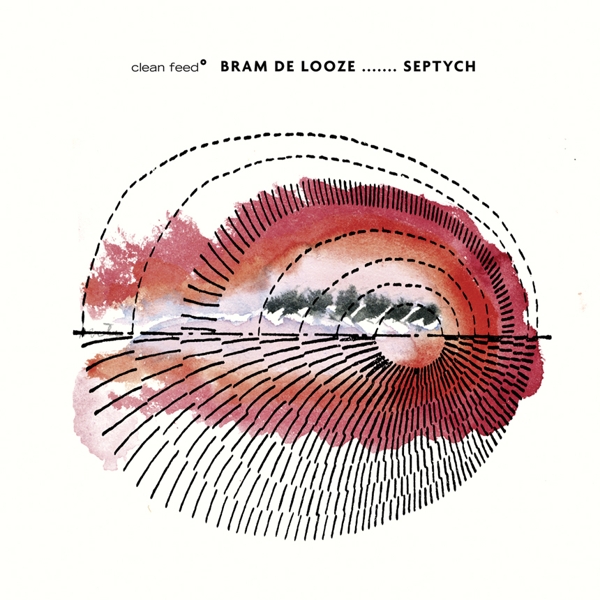 VIDEO Septych :: Th90 Disrupted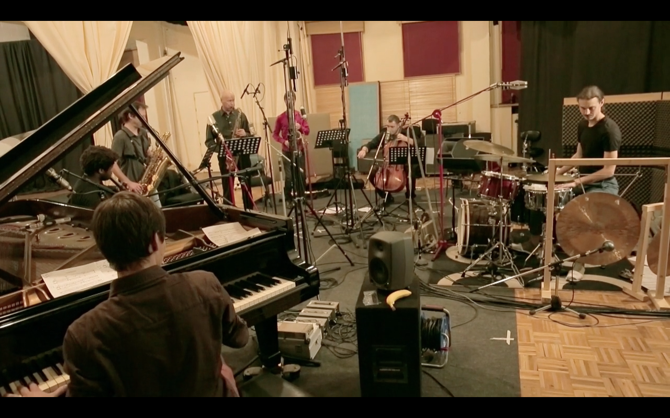 Bram De Looze's 'Septych' unveils the sound and music of a larger ensemble consisting out of two cello's, three horns, drums and piano. New challenges and explorations for Bram De Looze that open new doors through which he gets immediate contact with his imagination and creativity to develop new music. The band's collective energy blends with individual exposures while maintaining the qualities of trust and understanding of small ensemble-playing.

To deliver the music Bram De Looze creates a unique bailiwick of masterful improvisers and sensitive ensemble players:
Daniel Levin, Lester St-Louis, Robin Verheyen, Gebhard Ullmann, Bo Van Der Werf and Flin Van Hemmen.

The music reflects the high level of improvisational interplay and the orchestral possibility of a setting of this kind, as it also exploits the possibility of doubling cello's and tenor saxophones on the way. Bram De Looze aims for a primarily mid-ranged lineup of instruments, wherein its timbres fuse towards a colourful and captivating identity. An emphasis on rhythm, mysterious and intimate harmonies, from the brutal noise to the light and beautiful, open or preconceived ideas are main ingredients that are balanced out in the approach to the large diversity of ways to create music. This phenomenal and boundless collective of musicians offers a distinctive and focused set of music in a very subtile, openhearted and sensitive way. Bringing the audience in a state of concentration, moving, haunting, resignation, release, liberation.
Daniel Levin / cello
Lester St-Louis / cello
Flin Van Hemmen / drums
Robin Verheyen / soprano & tenor sax
Gebhard Ullmann / basclarinet, tenor sax, flute
Bo Van Der Werf / baritone sax
Bram De Looze / piano, compositions



'Bram De Looze legt knopen' - DE STANDAARD
Dutch article on tour Septych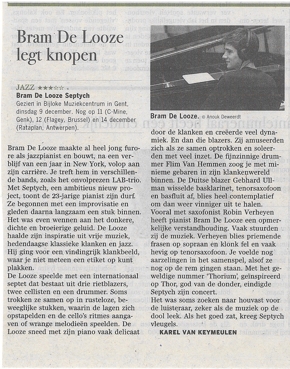 ***
CODING OF EVIDENTIALITY BY DRE HOCEVAR TRIO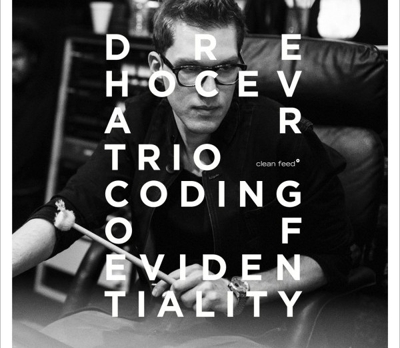 Sam Pluta electronics | Lester St.Louis cello | Bram De Looze piano | Dre Hocevar drums
Jazz is indeed a universal language. The leader of this trio, drummer and composer Dre Hocevar, is Slovenian, the pianist, Bram De Looze, is Belgian, and the cellist, Lester St.louis, is American. Clearly the music here points to the future. Not only because of the musicians age but mostly because of their curious minds related to the fact that the three of them live in New York. Hocevar, De Looze and St.Louis are under 30, and it's sufficient to say that "Coding of Evidentiality" is only the second opus by Hocevar and the first recording ever made by St.louis. The music reflects both conditions: it portrays a wide perspective of this idiom, combining an array of progressive compositional and improvisational approaches, and has that kind of freshness and naiveté (in the good sense) only possible when things are at its start. At the same time, you notice that the references are clear in the world of drumming (a descendent of Tony Williams' capacity to go outside and back inside, Hocevar was a pupil of Michael Carvin and has Gerry Hemingway, Nasheet Waits and Tyshawn Sorey as his contemporaries) and that this is a mature, solid project, resulting from exquisite playing, historic awareness and audacious imagination. Rhythm and interaction methodologies are always the matrix, all the improvising has a compositional focus and the emphasis is on timbre.
One of the pieces included is called "Post Resonance 1J7-36 " and that's a key factor here. Expect the unexpected isn't only the advice to the wise, in one track, of Sam Pluta's electronics…
http://cleanfeed-records.com/product/coding-of-evidentiality